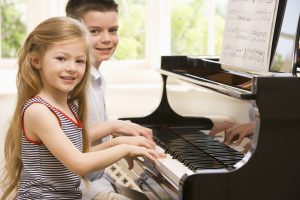 "Miss Katie is a wonderful piano teacher, and has the patience of a SAINT with my children! 😄 She looks for opportunities for the kids to get out and perform several times a year, and always has a positive, encouraging attitude while still encouraging the kids to strive for improvement. My mother has watched several lessons, and has repeatedly commented on how incredibly well Katie does with the kids, and how much they get out of their lessons as compared with lessons from other teachers that she has seen in the past with her other grandkids. You can't go wrong with Miss Katie!" – ADAM K.
"Katie has been such a blessing to us. My daughter loves going to lessons every week. Katie has made it fun for her and has exceeded my expectations!"
-TRISHA P.
"This amazing young woman, Katie Hadley, has taught my Sarah so much in such a short time! We have love taking Suzuki piano lessons from her the past two years and highly recommend her!"
-JULIE P.
"Miss Katie has helped my kids dramatically in their piano skills. She is very patient and teaches in a way that is fun and encouraging".
Check out my google business page for more reviews